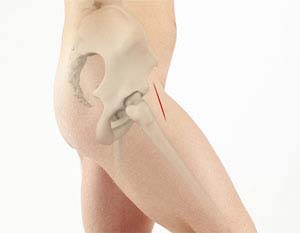 Direct Anterior Hip Replacement is a classic technique for hip replacement surgery that has been used for decades and has recently become more popular. Scientific studies have shown that direct anterior procedures allow patients to recover more quickly, have less pain and a decreased risk of dislocation. Hip replacement surgery is still most commonly performed utilizing posterior or lateral approaches. These surgical approaches necessitate cutting certain muscles and tendons to access the hip joint to perform the surgery.
The direct anterior approach utilizes a muscle interval in front of the hip joint in which muscles and tendons are not cut for exposure of the joint. This exposure can be more challenging because it is not commonly taught in most training programs. Sometimes special instruments and surgical tables may be used to assist in performing the surgery, though it is widely accepted that they are not necessary.
Patients who have undergone Direct Anterior Hip Replacement surgery report that the post-operative pain and discomfort is significantly less than traditional approaches. In addition, their early recovery can be faster. Most patients are discharged on the day of surgery or after a one-night stay. Patients will commonly use an assist device, such as a cane, crutches or walker for a few weeks after their surgery.
Related Topics